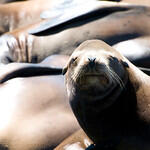 Fettig family
Why? Why not. There's really nothing to see here. Some of us have landing pages and others don't.
Steve Fettig
Technically, it is Steven N. Fettig. I go by Steve. The only public feed I have these days is for Twitter. My feed is at @snfettig. I can be reached at +1 262 725 1704.
The rest of the family?
If they want pages, eventually they'll show up here.
Questions
"I don't know..." may be the best that you'll get. Ask anyway.